ASPHALT SHINGLE FACTORY-CHINA PROFESSIONAL ROOFING SHINGLE FACTORY
Factory Introduce:
Sangobuild is a professional manufacturer and exporter of asphalt roofing shingle in Hangzhou of China, with our factory situated in Yuhang Area. Company have "good price business philosophy, and constantly improve the quality and full service principles and policies" as the principle of adhering to forever, so we have got many of customers' trust which mainly come from South America, North America, Africa, Southeast Asia, the Middle East and so on. I am sure you will be satisfied with our price, quality and our best service.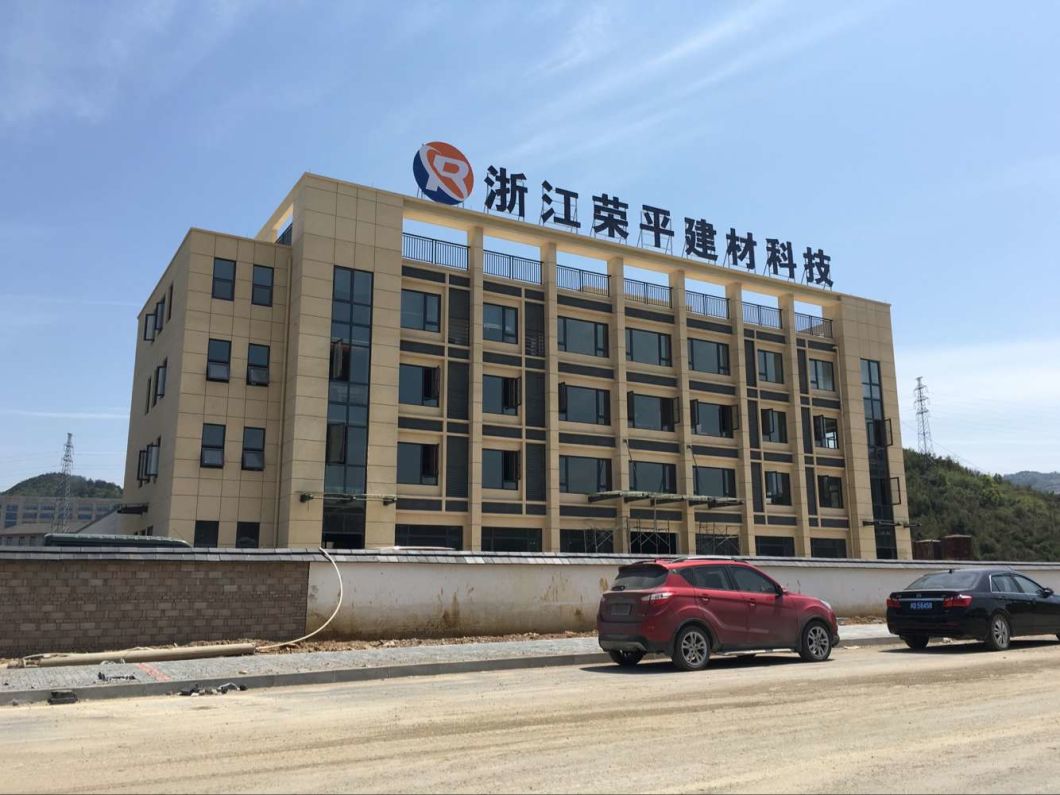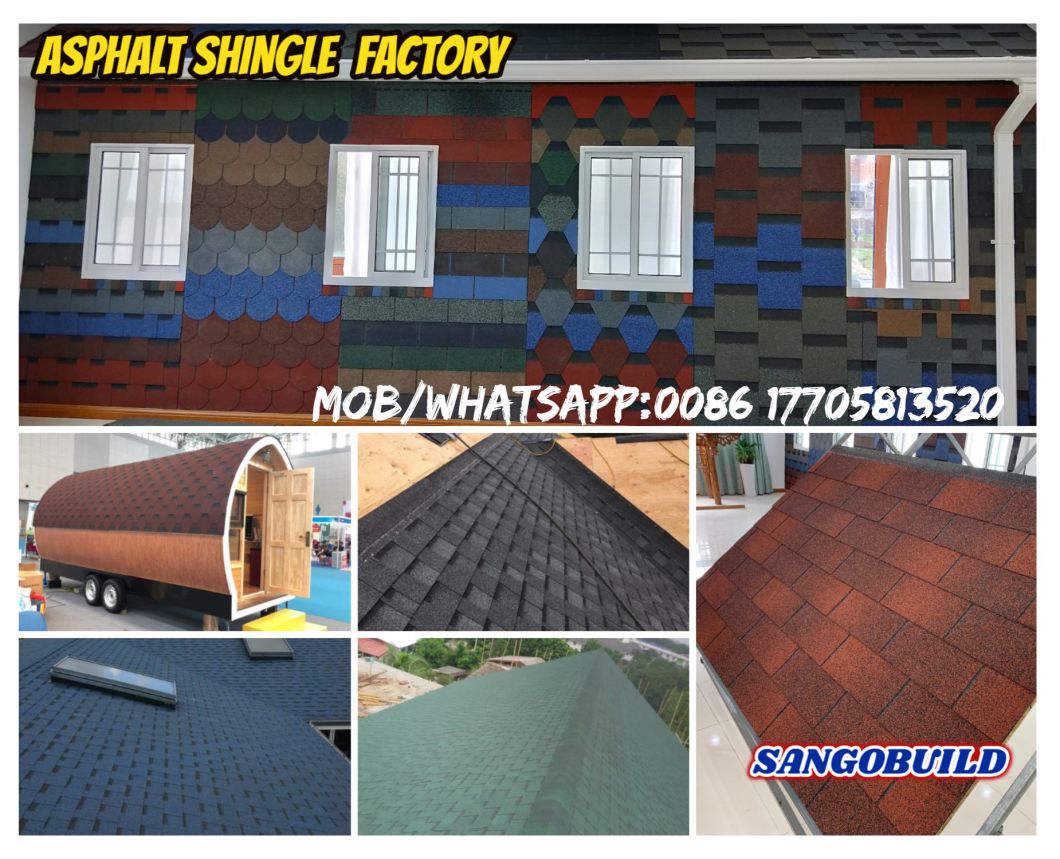 Asphalt Shingle Detail information:
| | |
| --- | --- |
| Name | Asphalt shingle |
| Length | 1000mm(±3.0mm) |
| Width | 333mm(±3.0mm) |
| Height | >=2.6mm/5.2mm |
| Tensile strength(longitudinal)(N/50mm) | No flow, slide, drippage and bubble(90°C) |
| Tensile strength(transversal)(N/50mm | No crack being bent for 10°C |
| Heat Resistance | No flow, slide, drippage and bubble(90°C) |
| Flexibility | No crack being bent for 10°C |
| Nail Resistance | 78N |
| Average Life Time | 20-30 years |
| Resist To Tearing | >100N |
| Square meters/bundle | 3.0 square meter/bundle 2.32 square meter/bundle |
| Weather Explosure | 145mm |
| Packing: | PE bag with fumigated wood pallet, 21pcs/bundle/16pcs/bundle |
Asphalt Shingle Type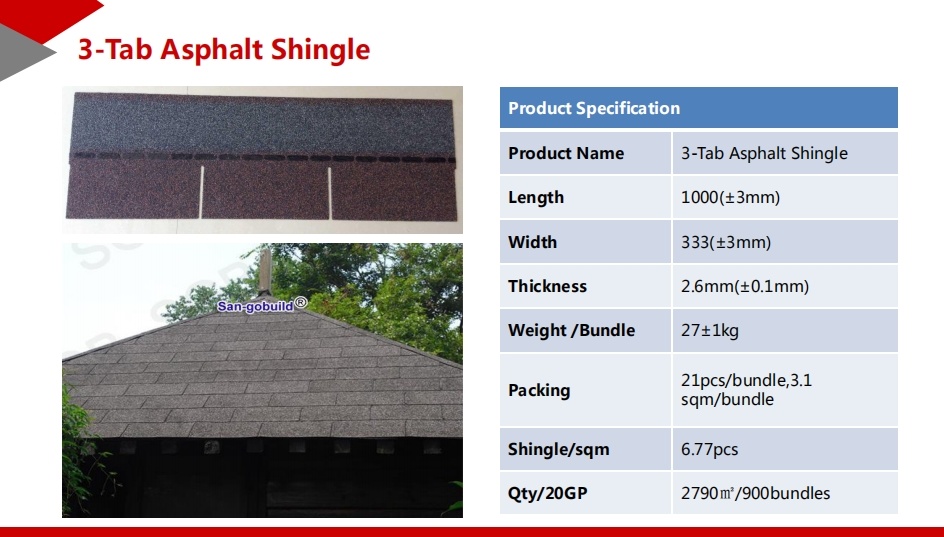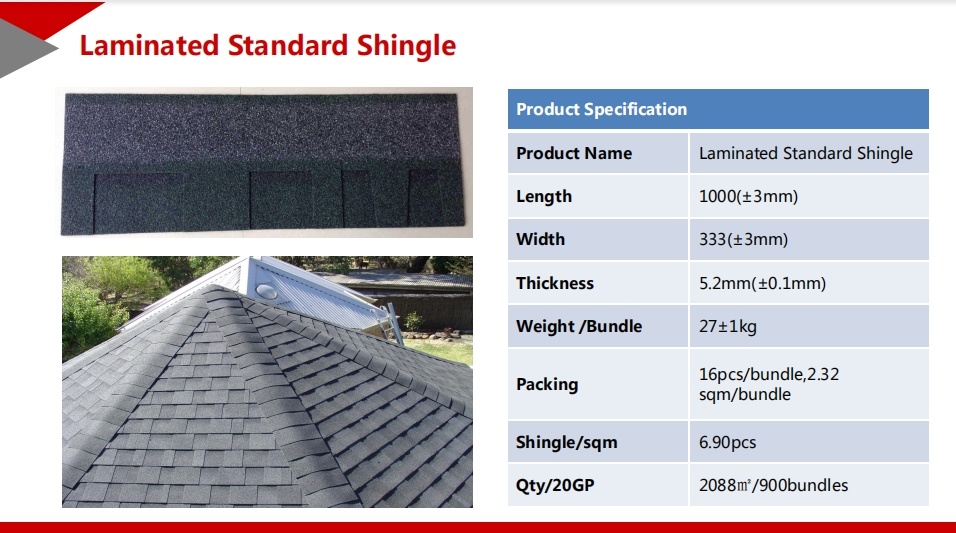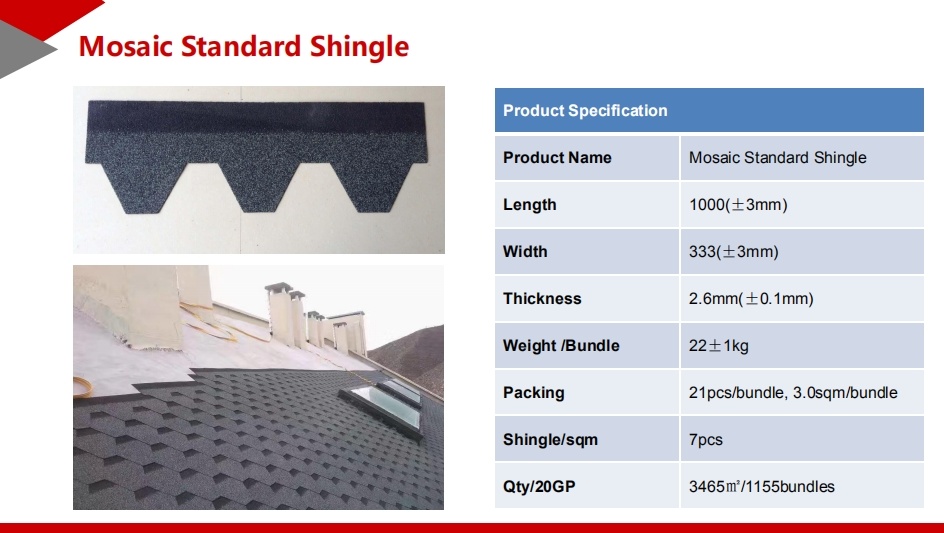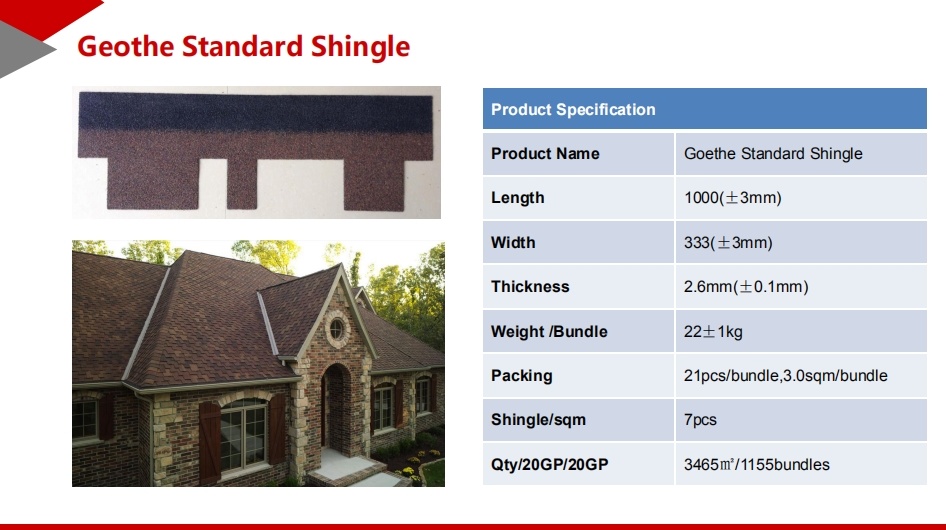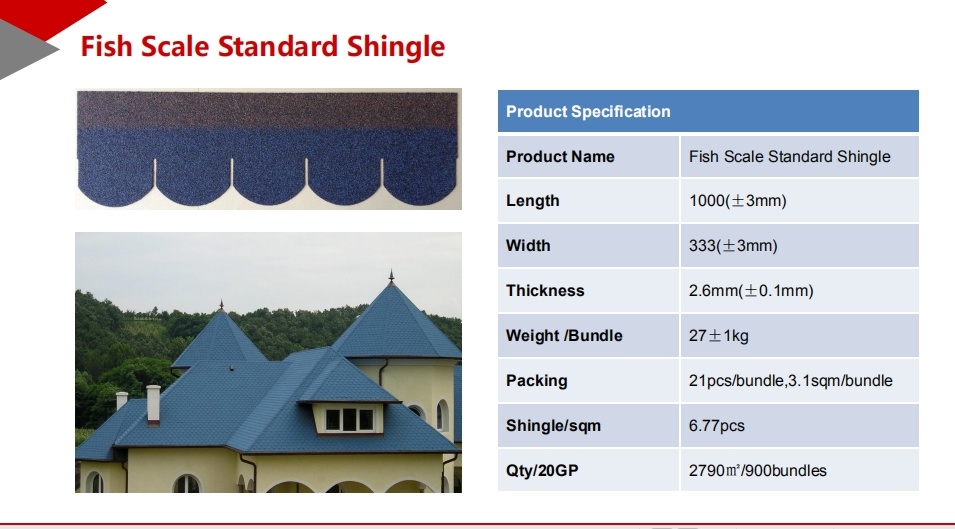 Asphalt Shingle Color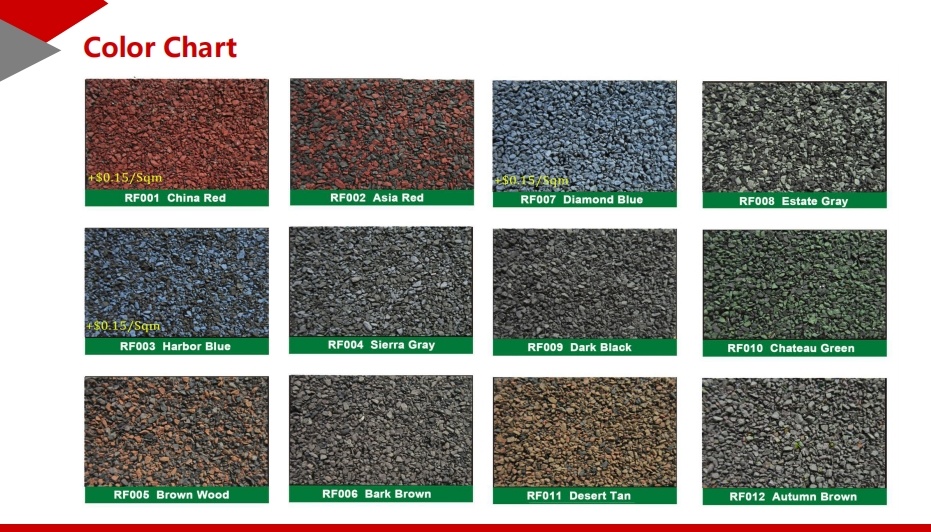 Asphalt Shingle Accessories: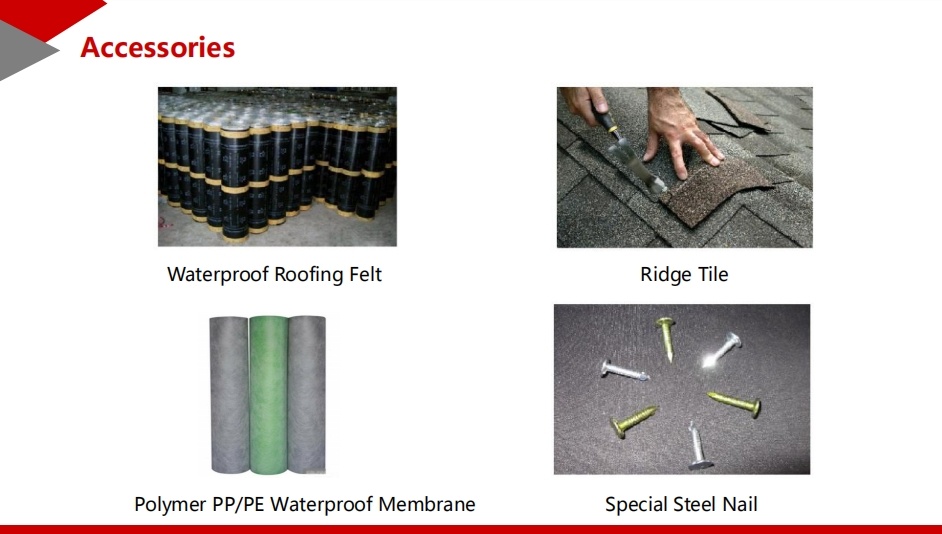 Asphalt Shingle Package: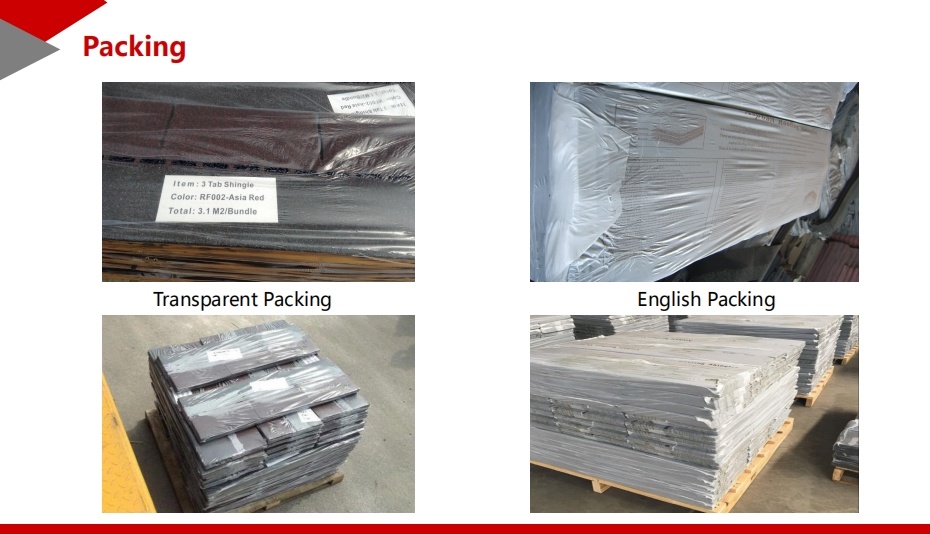 Asphalt Shingle Loading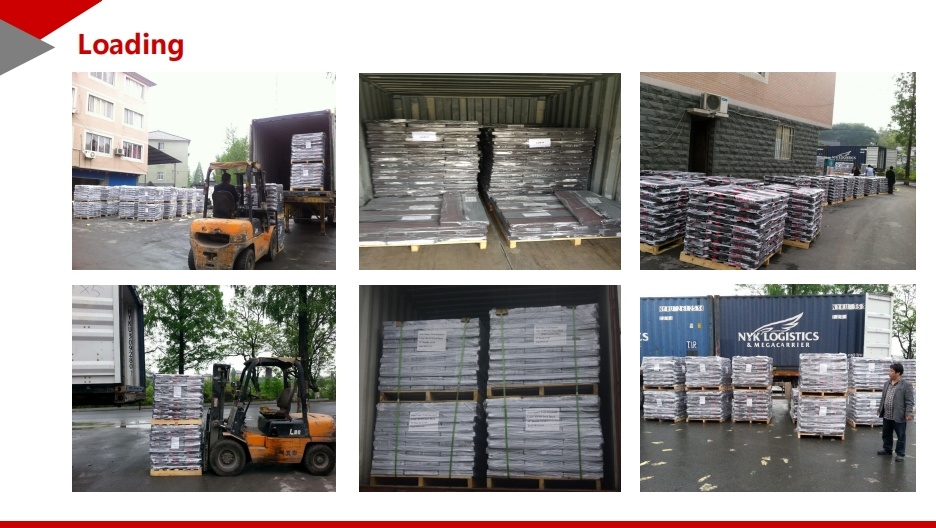 Why You Choose Sangobuild Asphalt Shingle?
1.Good Quality
Sangobuild use CARLAC(CL) natural stone chips from French to cover the asphalt shingle,it is anti-algae and no color fading.The fiberglass is 95g/m2or 110g/m2
which let asphalt shingle be stronger.The warranty could be 30 years.
2.Fast Shipment
Sangobuild have two advanced automatic production line and the output could be 520,000 square meters per month.We usually finish the production within 7
days after receiving the deposit.
3.Professional Service
Sangobuild export the asphalt shingle to more than 20 countries for 13 years and could arrange the shipment and document perfectly to save the cost.And we also
could apply the certificate as per your requirement.
4.Factory
Sangobuild is the factory for asphalt shingle,if you purchase the goods from us directly,you could get the cheaper price than purchase from trading company.And
we also could control the quality.Our factory is in Hangzhou,China.Welcome to
visit our factory in any time.
5.Responsibility
Sangobuild is a reliable and honest enterprise.We prefer long term business,not one time business.So if you face any problem becasue of our quality,please take
the picture and video,inform us the details and quantity,we will be 100% responsible for our goods.And will give you feedback within 24 hours. 6.Technology
We could provide the professional selling proposition for different country and technical guidance for installment.If necessary,we will dispatch installment
technician to construction site.

FAQ
Q: Why the temperature should be up to 5ºC when install asphalt shingle?
A: The viscosity of adhesive tape(asphalt mastic) is affected by temperature.It will increase after install asphalt shingle on the roof and exposed on the sunshine
with the temperature increase.If the temperature is below 5ºC,the viscosity could not increase and the shingle could not stick on the roof very well.
Q: Is there any requirement for the roof when install asphalt shingle?
A: It is better that the angle of roof is more than 15 degree.If the angle is below 15 degree,the asphalt shingle may arch up.Furthermore,please try to avoid to
install the asphalt shingle in gale.Furthermore,the up and down shingles should
be staggered.
Q: How many years warranty?
A: The warranty of Sangobuild asphalt shingle could be 30 years.
Q: Does the color fade?
A:The color of Sangobuild asphalt shingle will not fade.We use CARLAC(CL) natural stone chips which is from French and it also supply the stone chips to the
factory for asphalt shingle in South of Korea and USA.The granula have excellent
performance for weather resistance and against the extreme UV.
Q: The asphalt shingle is self adhesive,why it still need the nail to fix it?
A: Becasue the viscosity of adhesive tape just increase when it reach suitable temperature,so it need to use the nail to fix it on the roof first,after it is exposed
on the sunshine and the temperature increase,the asphalt shingle could stick with
roof very well.
Q: Is necessary to install the waterproof membrane before install shingle?
A: Yes,it must install the waterproof membrane before install asphalt shingle,we have self adhesive waterproof membrane and ploymer PP/PE waterproof
membrane could be choosed.