Established in 2005, General Inspection Services Co., Ltd. (GIS), one of the leading third party quality control service providers in China, has been providing product inspection, plant /supplier evaluation, project quality management, product testing, as well as quality engineering consultation to our clients worldwide.
We are committed to :
assist you in building / improving your quality control system by finding out problems and offering professional solution to reduce your risk and damage
educate your suppliers by offering them professional advice to upgrade their ability and mindset of production and quality assurance
GIS quality technical service type:
? 1. One-stop purchasing service



? 2. Product quality control

2.1 Product inspection
2.2 Industrial product inspection
2.3 Full inspection
2.4 Loading supervision
2.5 Testing
2.6 Product audit
2.7 Process audit
2.8 Design, making and verification for gauge
2.9 Damage investigation
?3. Supplier management and development

3.1 Factory evaluation
3.2 Trade company evaluation
3.3 Diagnosis and optimization for management system
3.4 Project quality management
3.5 Quality engineering consulting
3.6 Management consulting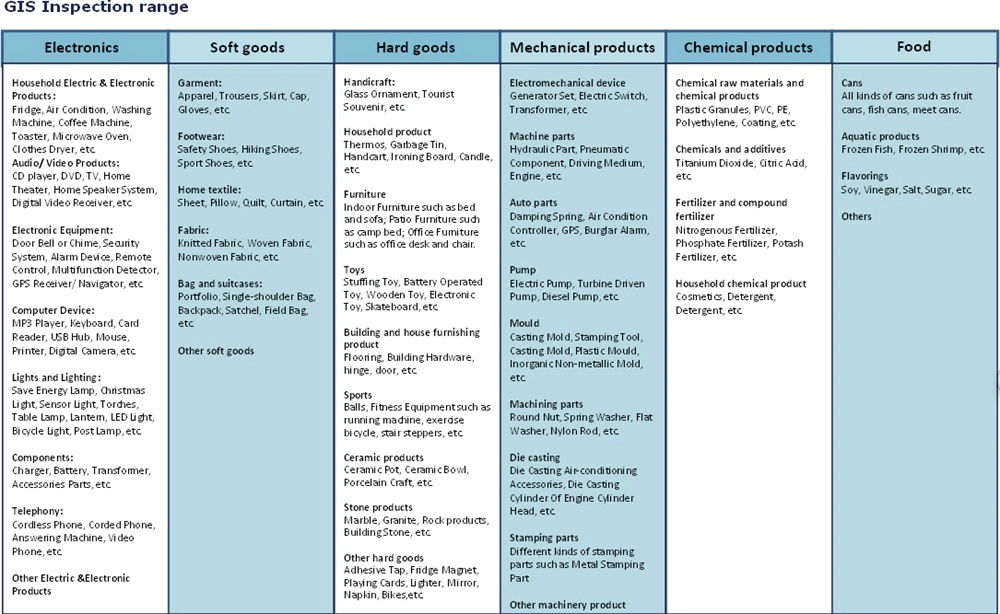 GIS has 10 offices all over China with our head office in Fuzhou, Fujian where the other 9 offices are in Shenzhen, Dongguan, Shunde, Xiamen, Ningbo, Hangzhou, Suzhou, Qingdao and Tianjing, forming an extensive network to perform inspection services such as During Production and Final Random Inspection and so on.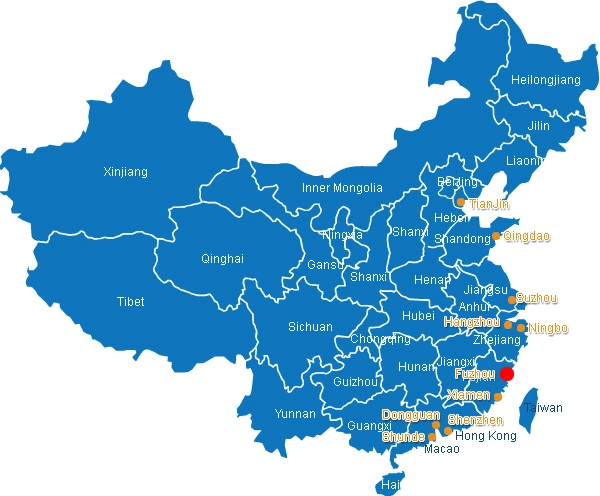 For different products GIS has individually relevant quality engineering teams. They prepare technical documents and conduct corresponding quality control program for the requirements of different product, client and supplier. Detailed work division for products and specialty make them be able to understand the exact information of product quality state and the actual ability of the plant producing the products so that be able to take quality measure to ensure the clients just interests.
Highly Effective:
GIS has built an inspection service network in China. We have 10 offices all over China. Our Head office is in Fuzhou, Fujian. The other 9 offices are in Shunde, Dongguan, Shenzhen, Xiamen, Ningbo, Hangzhou, Suzhou, Qingdao and Tianjing. We have:
1. Instant response: Immediate reply for clients' requirements.
2. Rapid arrangement: The inspection arranged in 3 days.
3. Fast report: Formal report sent in 24 hours after inspection.
4. Quick complain solving: 24 hour reply for clients' complain and processing it immediately.
Service spirit:
Understanding clients' needs in full attention, working independently and taking all responsibility are our pursuit for professional service