Camouflage Rain Coat Waterproof Hunting Suit For Hunting Big Animal
Hunting jacket is often designed and fabricated with solid style for perfect concealment for deer hunting sports. Hunting jacket for deer hunting sports is also select the soft brushed tricot fabric that keep the hunter noiseless when moving and shooting. The shell fabric is highly bonded with high quality TPU lamination. All the seams are PU taped to keep the hunter dry and warm even in cold environment. The hunting jacket is waterproof and breathable that can enable you a comfortable feeling in hunting games. These kinds hunting jacket are usually with anatomical tri-adjustable hood and adjustable verclo cuff, they are easily regulated with elastic stopper even you wear gloves. Different kinds pockets, such as chest, waist and big cargo pocket, can supply more storage space. All the zippers are good quality YKK brand. The hunting jacket is the ideal garment for deer hunting sports.

Specially designed hunting jacket for deer hunting sports

Perfect concealment with camouflage style

Soft and noiseless brushed tricot shell fabric

All the seams are PU taped

Breathability rating (grams): 10,000g/m²/24hours

Waterproof rating (mm): 10,000mm/m²

Windproof and waterproof fabric with DWR finish

High quality YKK zippers

Anatomical tri-adjustable hood

Adjustable verclo cuff

Waterproof fabric
| | |
| --- | --- |
| Item | |
| Product Name | Camouflage Rain Coat Waterproof Hunting Suit For Hunting Big Animal |
| | |
| | |
| | BOWINS or Customer's Logo |
| | |
| | Based on order quantity. normally 60-90 days. |
| Price Advantage | Competitive factory price with guaranteed quality |
| Business Type | |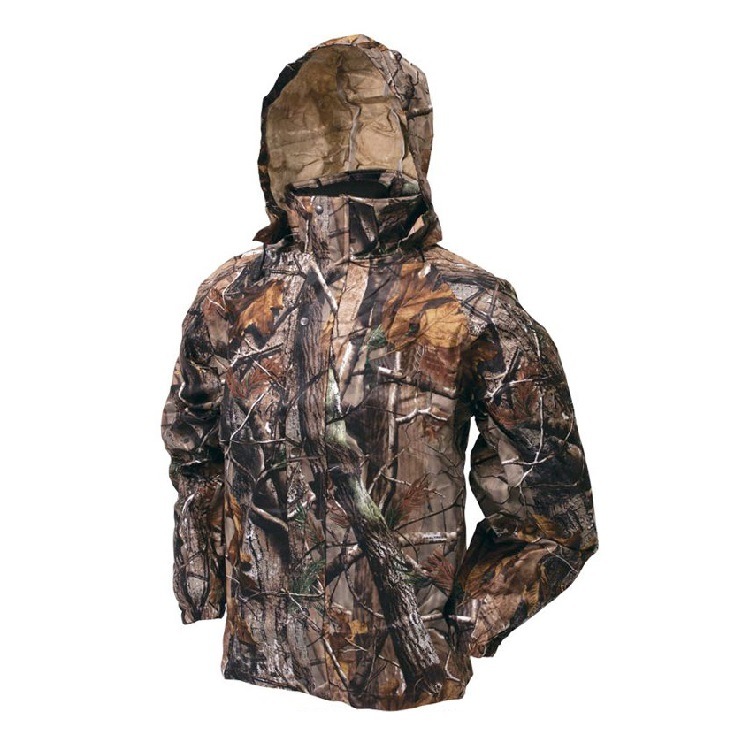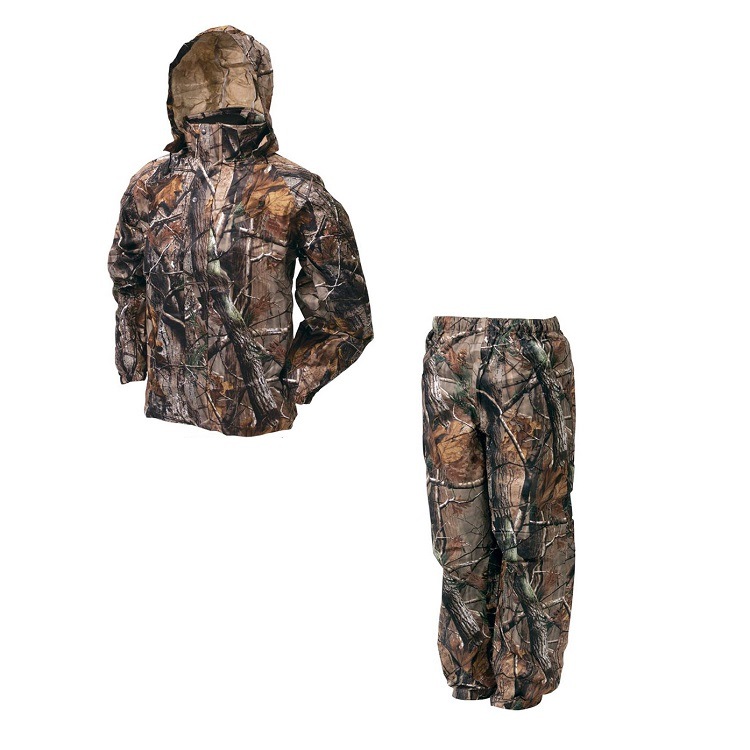 Dedication Makes Professional, Details Makes Perfect
Taian BOWINS Garment Co., Ltd (BOWINS Garment) is the professional designer and manufacturer of hunting clothing and offers OEM/ODM services. Since its foundation in 2007, BOWINS has been devoted to providing custom-tailored design, production and export service of hunting clothing around the world. BOWINS has over 300 workers with more than 14 years' experience in the production of Hunting clothing, we have our own factories covering more than 20000 square meters and are equipped with many processional production machines. Located in eastern China, BOWINS is easy to access which is about 2.5 hours away from Beijing, 3.5 hours away from Shanghai by by high speed train, and 1.5 hours away from Jinan Yaoqiang Airport (airport code is ZSJN).
Hunting jackets, pants, vest,pullover,shirt are our main products. All of our hunting clothing are made of high-quality fabrics and accessories, and all of them should be passed the strict and professional quality control system to assure their superior quality. The design department, sales department, development&supply department, production department, quality control department are united together to work efficiently and effectively. Tai'an Legend Garment Co., Ltd. and Tai'an JTL Garment Co., Ltd. are our main wholly-owned factories. By unrelenting efforts and ever-increasing capital investment, BOWINS stands as the leader in the hunting manufacturing industry. Our partners are those famous hunting clothing brands in the Europe and America. High quality products, shorter delivery time and customer satisfaction are our long-term commitments to global clients. Hope to be your partner.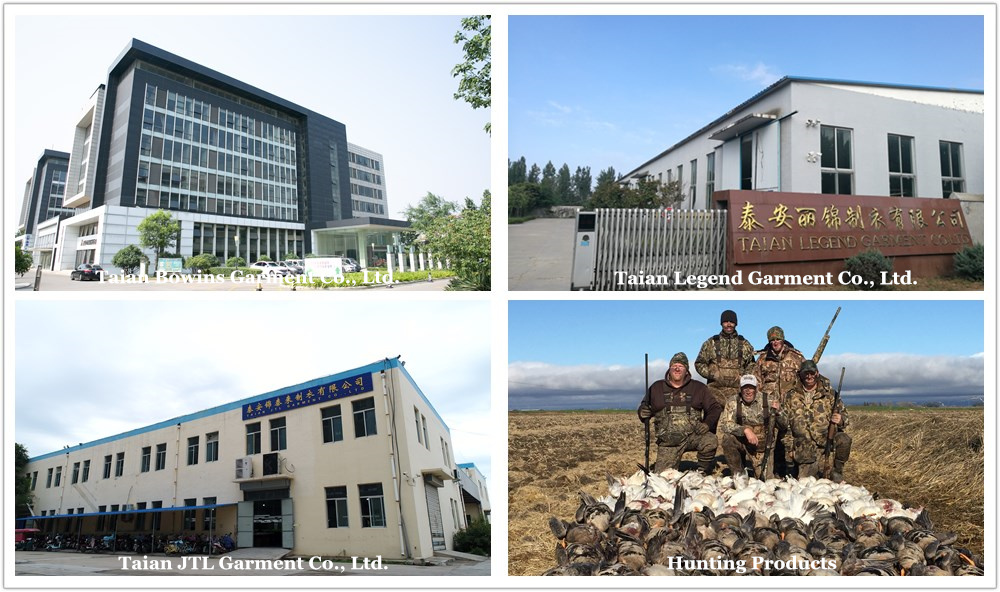 1.Professional Team
BOWINS has a professional team which deeply understands the technical requirements of hunting clothing and focuses on the product and technical development, sample production, bulk order production of custom-tailored hunting clothing. BOWINS has been striving to explore the hunting clothing market and is committed to the practical application of the functional technology of hunting clothing.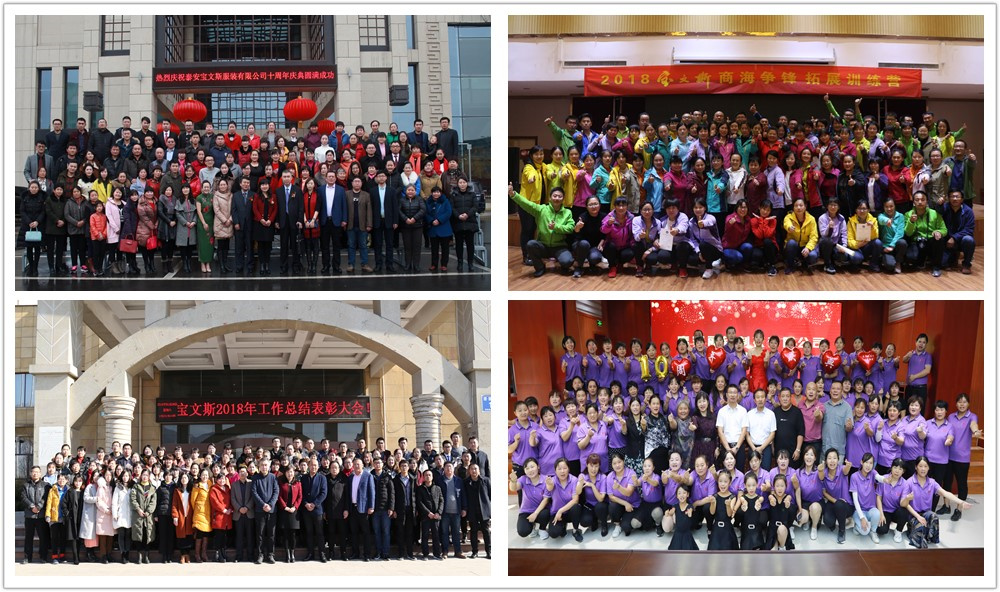 2.Product Research and Development
The R&D department is responsible for the development of hunting clothing with customized design and sample
production. At Present, BOWINS has 12 professional functional clothing designers, 24 skillful sewing workers and 12 pattern makers.The R&D department has its own workshop and sample exhibition room. We often use white cotton cloth to trim and cut three-dimensional patterns according to the customers' product drawings and technical requirements before the the fabrics are put into production, which can make the sample fit design style and requirements well.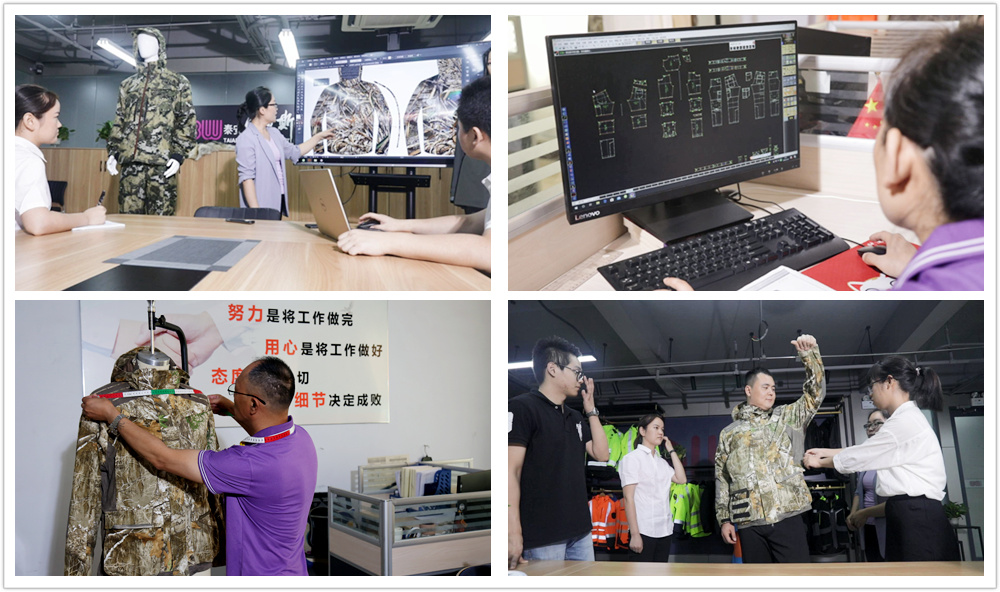 3.Raw Fabric Inspection & Preparation


Fabric inspection before cutting and production is the first step to ensure product quality. Before production, our inspectors use professional inspection machines to strictly control the quality of fabrics and accessories. Automatic spreading machine and fabric cutting machine are universally used in our factory which can cut fabrics effectively and efficiently.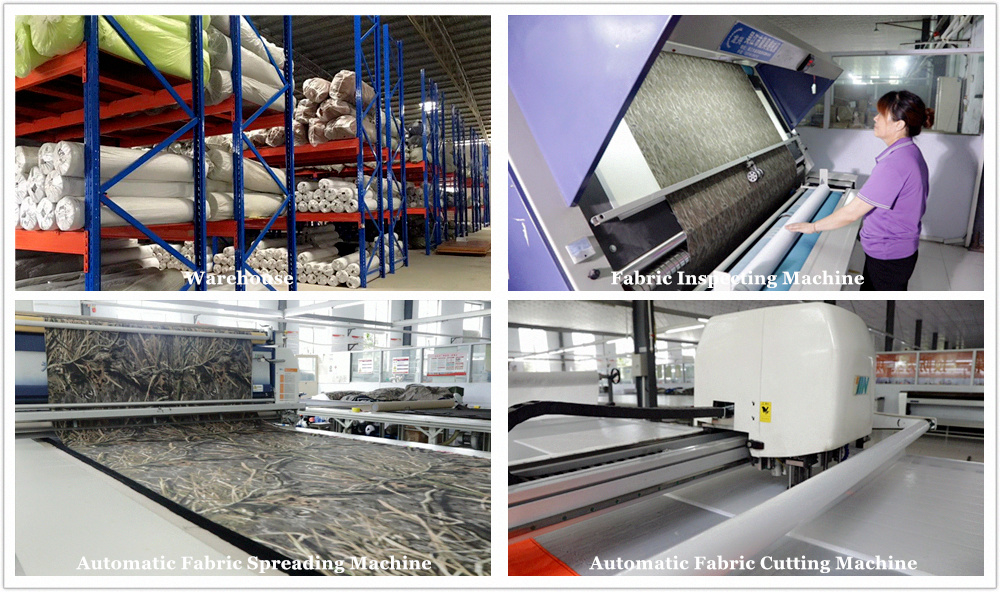 4.Production of Hunting Clothing
The BOWINS factory is equipped with multifunctional automatic template sewing machines
which
can greatly improve production efficiency, ensure product quality, save product costs and shorten the sewing time of hunting clothing. The wide application of CNC template sewing machines and computer pattern machines help us achieve the consistency and standardization of hunting clothing according to customer's requirements. These professional machines and our experience in the hunting clothing industry have replaced the traditional clothing production, which is also a huge progress for today's Chinese clothing manufacturing factories!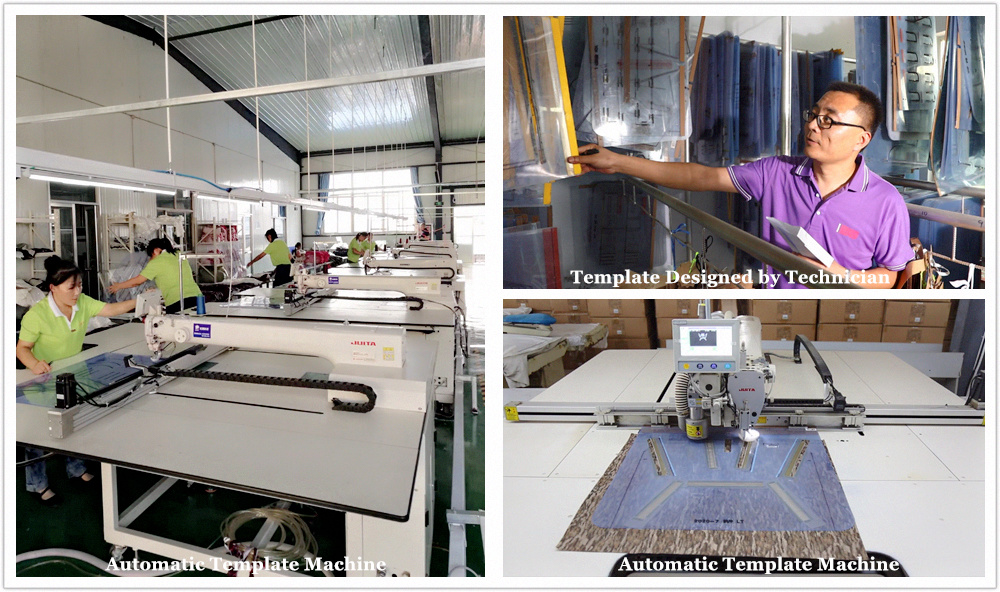 5.Seam Sealing Process
The seam sealing process is very important to functional clothing, which can keep the clothing waterproof even after multiple machine washes. We use the HH brand hot air seam sealing machine made in Hong Kong
to ensure that the functional clothing is 100% waterproof. The sealing tape can cover the needle holes at the stitches to prevent water from entering the seams. Our quality control staff is responsible for water pressure testing and data collection to guarantee that the whole garment is 100% waterproof and meets the customer's water pressure standards. The automatic template sewing machine can also be used for logo sewing, velcro sewing and etc.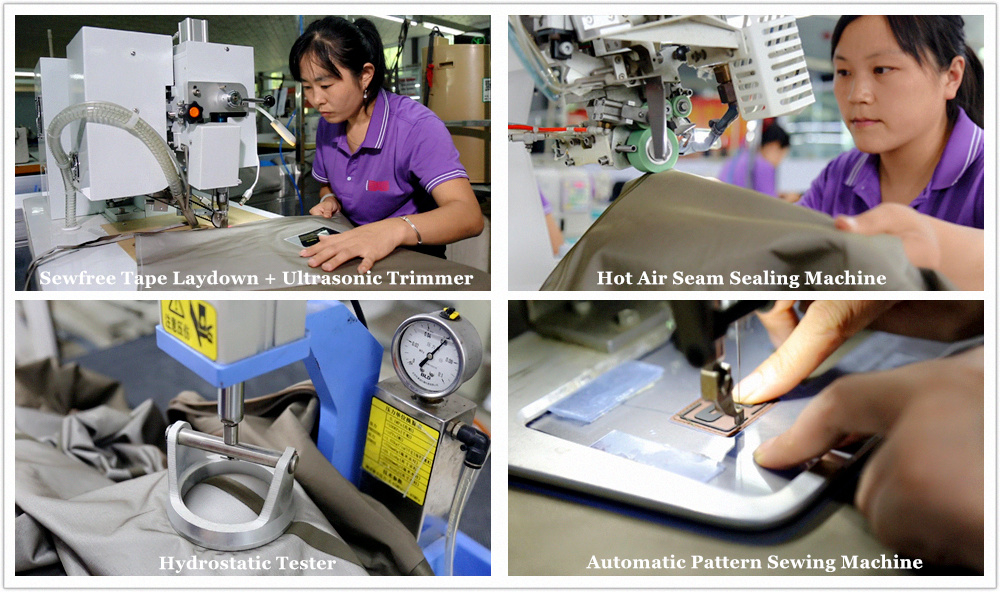 6.Automatic Production Line
Functional clothing is usually made of many different fabrics to achieve different functions such as the waterproof, high visibility, protection and safety, sound-absorbing, multifunctional pockets and etc. Therefore, the automatic production line is specially designed for the production of complex functional clothing which has been disassembled into many small flow processes by our professional engineers. The automatic production line changes the traditional production method and can transfer the semi-finished products of each process to the next process according to the defined cycle. The application of automatic production lines greatly reduces management costs, improves production efficiency, ensures product quality and shortens delivery time.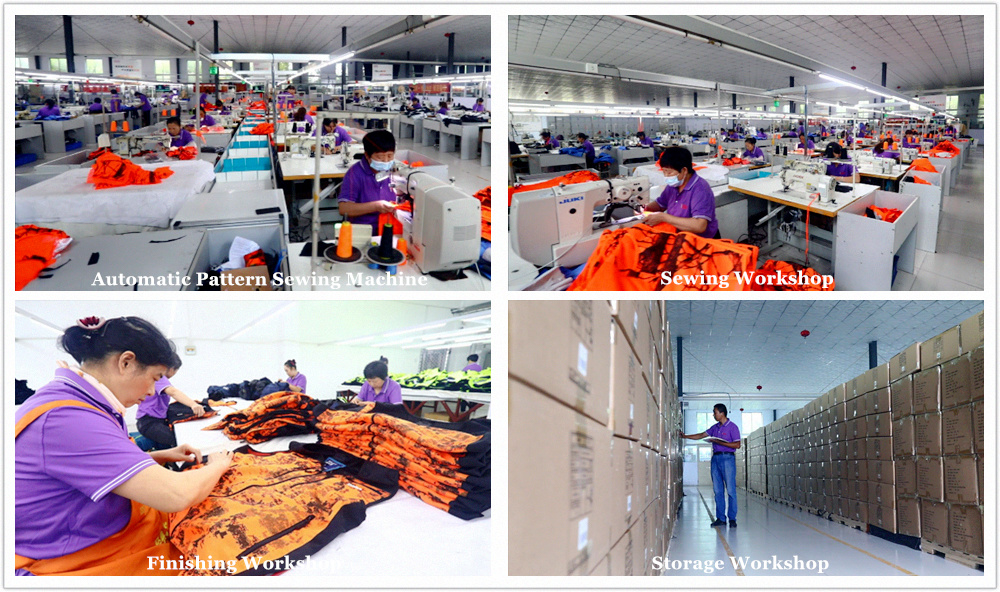 7.Professional QC Department and Inspection Standards
BOWINS has a professional quality control department and
brings in professional quality control professionals and intelligent testing equipment. There are 18
employees in the quality control department. Two of them are manager and deputy manager, both of whom had
worked in the QC department of German-founded enterprises for more than ten years. They are responsible for the inspection of fabric and accessories testing, printing and embroidery, and sample and bulk order. We strictly conform to all the procedures of the quality control
systems in
every production link
and always carry out inspections in accordance with the international inspection standards A.Q.L 1.5 & 2.5. The professional quality supervision team will bring a higher level of product quality to our company.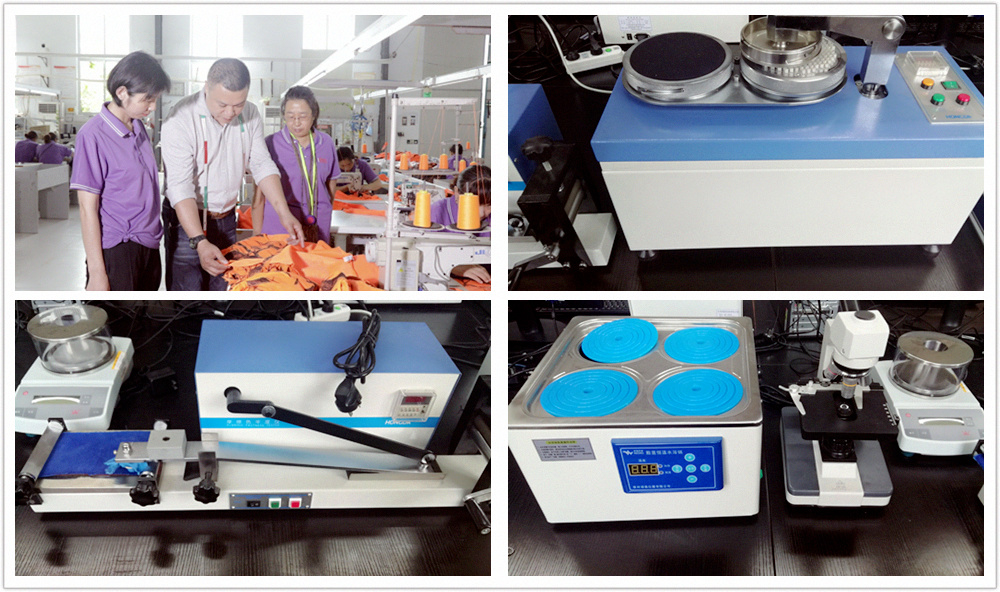 Product innovation, quality assurance and customer satisfaction are our long term commitment to our worldwide customers. Welcome to contact us.